Primers

Ensure a strong bond for your CustomTech floor installation by priming either porous or non-porous surfaces before underlayment installation. Applying an appropriate primer will improve the bond of the leveling system, creating a more uniform and durable installation. CustomTech presents three different primer options to meet the needs of most any project.
see all products
Leveling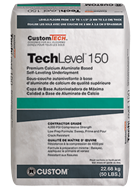 Technologically superior levelers are now available. CustomTech self-leveling underlayments add strength, durability and an even surface to the floor to provide a superior surface for the application of floor coverings. They seek their own level in minutes and set quickly, adding extra support and high compressive strength to residential and commercial installations.
see all products
Moisture Control

Uncontrolled moisture can cause cracks, crumbling and weakened bonds between the substrate and floor coverings. Protect the integrity of the installation by controlling the rate of moisture vapor transmission with CustomTech moisture remediation products. Transmission rates are reduced to less than three pounds, and the subfloor can be primer-ready in as little as five hours.
see all products
Patching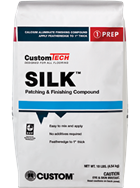 Rough, damaged or uneven subfloors call for the use of CustomTech patching products for durable floor covering support. Patch over concrete, plywood, existing tile and other surfaces for even, quick-setting results from feather edge to 2". These patching products help to eliminate bond failure, crumbling and mildew in the substrate, which will increase the durability and longevity of the installation.
see all products