Products
TechLevel 100 Self-Leveling Underlayment
TechLevel 100 Self-Leveling Underlayment
Have a question?
We are here to help.
800-272-8786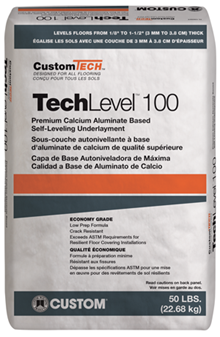 TechLevel™ 100 is a high quality self-leveling underlayment that achieves greater than 4000 psi compressive strength. TechLevel 100 levels floors prior to the installation of tile, resilient flooring, carpet, wood and other floor coverings. This underlayment can be applied up to 1.5" (3.8 cm) thick in one pour and seeks its own level in minutes.
Levels floors from 3/16" to 1-1/2" thick
Crack resistant
Exceeds ASTM requirements for resilient floor covering installations
Obtain the applicable LIMITED PRODUCT WARRANTY at www.customtechflooring.com/en-US/reference-library/warranties/or send a written request to Custom Building Products, Inc., Five Concourse Parkway, Atlanta, GA 30328, USA. Manufactured under the authority of Custom Building Products, Inc. © 2017 Quikrete International, Inc.