Products
TechMVC Moisture Vapor and Alkalinity Barrier
TechMVC Moisture Vapor and Alkalinity Barrier
Have a question?
We are here to help.
800-272-8786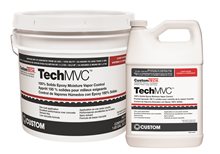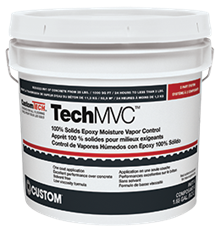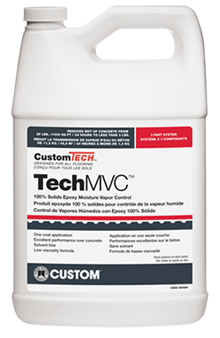 CustomTech™ TechMVC™ 100% Solids Epoxy Moisture Vapor Control
TechMVC is a true single coat, high density, moisture- and alkali-resistant, two-component, rapid cure 100% solids epoxy coating specifically formulated to control concrete moisture vapor emission and alkalinity beneath finished flooring. TechMVC may be used on concrete substrates measuring up to 100% RH (per ASTM F-2170), 25 lbs MVT (per ASTM F-1869) and pH 14, and is part of a full system to bring floors to ASTM F-710 and ASTM F 3010-13 at 8.5 mils nominal for moisture vapor compliance. Single-coat application effectively controls concrete moisture emission and creates an alkaline barrier between the substrate and adhered flooring materials. TechMVC is compatible with appropriate CustomTech™ primers, most non-porous surface primers, reactive and pressure sensitive adhesives and setting materials typically used to install adhered flooring such as: ceramic tile, vinyl composition tile (VCT), carpet, sheet vinyl, rubber and wood. Note: Some adhesives may require the use of a primer, consult Custom Technical Services.
TechMVC is compatible with most epoxy coatings (including epoxy terrazzo) and reactive urethane and epoxy adhesives for direct bond applications.
For professional use only.
One coat application
Solvent-free
Low viscosity formula
Reduces moisture vapor transmission of concrete